San Carlos de Bariloche is a stunning lakeside town in the Argentinian side of Patagonia. It's a three-hour bus ride from the quaint town of San Martin de Los Andes and it is a popular location for seasonal vacations and end-of-the-school-year trips. The natural setting combined with a small city-town vibe is a place not to miss for someone looking to embark on some of the most beautiful hikes in South America even if you are not a very active or athletic person.
I present to you part one of my two-part guide to hiking in Bariloche!
Part I: Guide to Hiking to Cerro Llao Llao in Patagonia
Part II: Guide to Hiking Cerro Catedral in Patagonia

Where is Bariloche?
Bariloche is located in the Patagonian Andes of Argentina approximately 20 hours away from Buenos Aires and is about an hour away from the Chilean border. The town is at an elevation of 2,930 feet in the Rio Negro province along the Nahuel Huapi Lake so you are surrounded by stunning views all around, which also makes for an ideal location for the best hikes in Argentina as well as for skiing. Two of my favorite hikes in Bariloche that I highly recommend are the hikes to Cerro Catedral and to Cerro Llao Llao. Cerro Catedral is also a popular ski area in the winter. Both hikes are stunning and are worth the trip to this part of the Patagonian Andean range.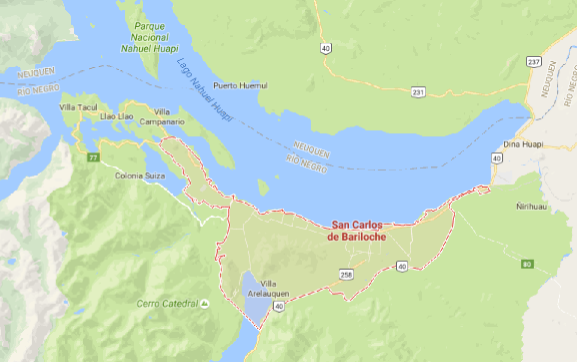 Hiking to Cerro Llao Llao in Bariloche
Being near bodies of water, whether it's the Pacific Ocean, the Adriatic Sea or a high-altitude alpine lake, is when I feel at east the most. There is something about the calmness of water that I find relaxing especially within a serene environment.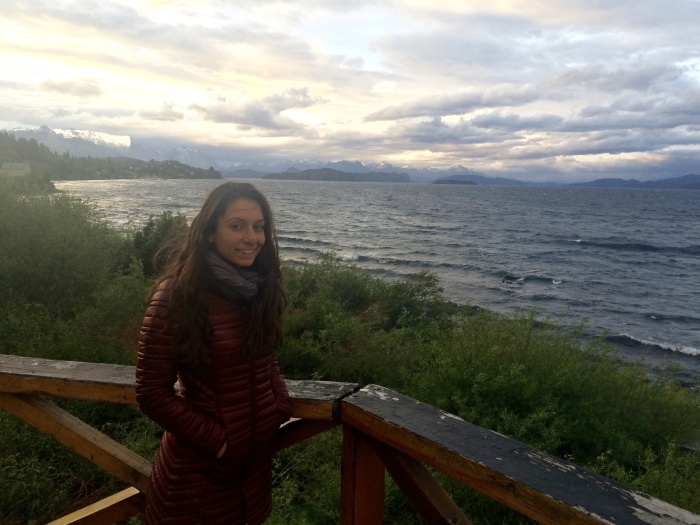 In Bariloche, there are several lakes that are worth hiking to, however, my favorite lakeside area so far has been through the hike to Cerro Llao Llao. Llao Llao, pronounced like Shaow Shaow in Castellano, is a short bus ride from the center of town. Don't confuse this with Lake Moreno in front of Hotel Llao Llao, which is where you will get dropped off. You can literally spend the entire day relaxing, swimming, and hiking on different trails in the area so don't spend too much time at Lake Moreno.
Cerro Llao Llao
Cerro Llao Llao has so many alcoves along the lake you can duck out from reality and have a piece of the lake all to yourself. Llao Llao is home to different wildlife and flora that you see often in the Patagonian forests such as the monte mouse, which looks like a lemur. I didn't see one, but I did see several species of birds in the area, so if you enjoy bird watching this is the ideal spot.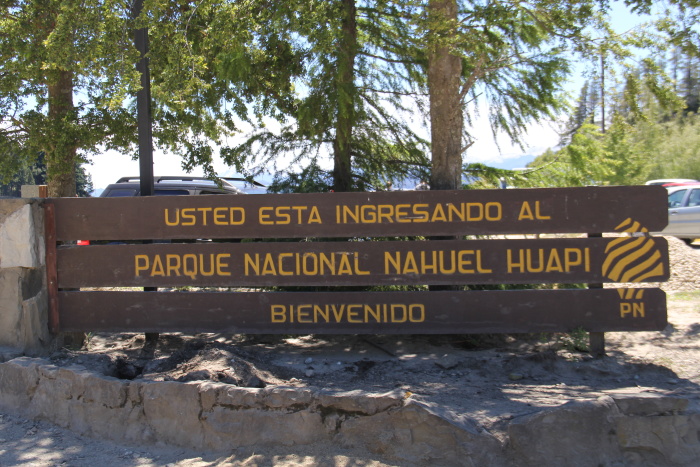 How to Get to Cerro LLao Llao Trailhead 
The trailhead to Cerro Llao Llao is very accessible on public transportation.  From the center of Bariloche, you can take public transportation, which costs 12 pesos per passenger per ride. You need to get a rechargeable bus card to ride. You can get a bus card at the omnibus terminal when you arrive in Bariloche or you can get one at some of the kioskos in town. Not all kioskos have the bus cards or can recharge it, but the larger ones should be able to.
From the main street, board bus number 20 and get off at the last stop which is Lago Llao Llao.
You will get dropped off outside of Hotel Llao Llao where there is a parking lot for people wanting to take the cruise boat. Walk up the main road for about  10 minutes until you get to the Llao Llao visitor center and trailhead. To get to the secluded lake shores, take the trail and stay left on the path and don't cross the wooden bridge, which will be on your right side. After 20 minutes of walking, you will come across a sign that says playa, which has a nice spot to picnic, but it's not too magical: you are confronted with a view of a golf course across the lake.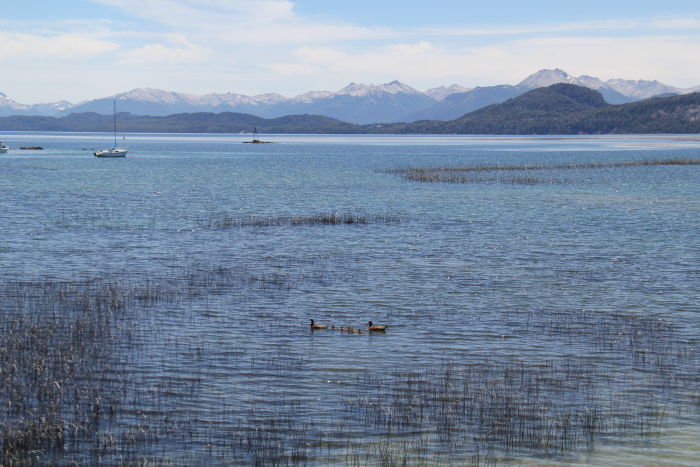 From here walk back onto the trail and take the route which leads you to the left. After hiking for about 10 minutes from here, there is a large clearing with boulders. Here is the most beautiful lake spot I have ever laid eyes on. The water is crystal clear and with emerald hues. It reflects Cerro Lopez on the other side of the lake as well as the tall trees. Anyone can easily spend hours here.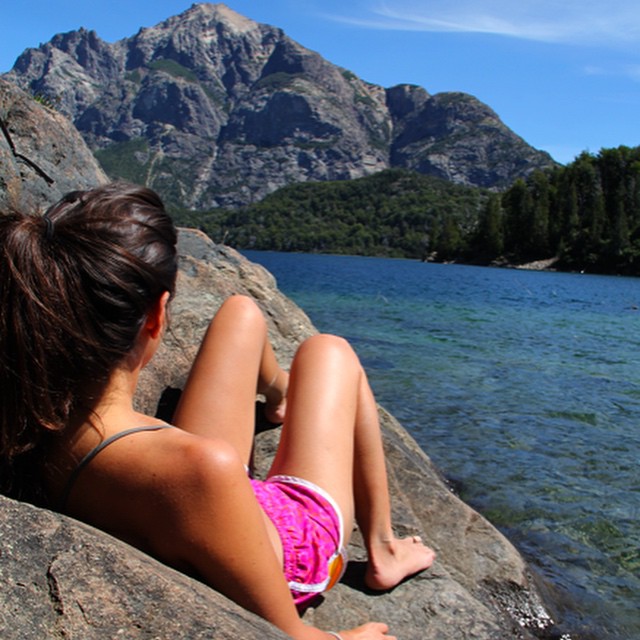 From here you can continue on the trail for about 20 minutes and you will get to the top for some great views. The cake for this hike for me is hanging out at the lake, but don't miss the beautiful views.
What to bring: Lunch, bathing suit, mate (what's mate?), and sunscreen. Don't bring camping supplies, it's not allowed within the park!
Experience Level: All levels, this is a very easy-going trail!
Length: The hike should only take two-three hours depending on your pace.
When to Hike: I don't recommend going here on a windy day because there is a lot of old, dry trees known as widow makers. Several tall trees are broken midway and resting on other trees, which looks and feels scary.
Even if it's a bit too chilly to go for a swim, the views are lovely and the trails are easy-going. Start the hike earlier in the day in case you want to explore the trails and other lakeshores without being stuck out in the dark.
Planning to hike in Argentina? Read my Fitz Roy hiking  more guides and tips.
If you enjoyed this post, why don't follow Adrift Anywhere on Facebook or subscribe to get updates on budgeting tips, travel advice and tips!
Susan is a travel and lifestyle writer from Los Angeles, California. A lover of the outdoors, beautiful landscapes and different cultures, she's been on the road for the last 6 months in backpacking Southeast Asia and Argentina. Her loves include strong coffee, pristine beaches, a challenging hike and luxury-budget traveling.
Latest posts by Susan Aksu (see all)