While traveling in Southeast Asia, one of the biggest money savers has been staying in hotel for free–for weeks at a time. The free hotel stays were booked using different methods: hotel points earned through credit card sign up bonuses, free credits earned from hotel booking apps and Best Rate Guarantees. In total, we booked 28 free nights from June through August as well a few more in September in Bali that I have yet to actually stay in. Anyone can book free nights and I'm surprised more people don't consider it, as it's easy to do.
Sure, I know that I can stay in low-budget accommodations which I of course do when I cannot use my free hotel methods and in Southeast Asia $20 can get you a very nice place, even $2 can get you an okay nights sleep in a hostel in Cambodia. Though to be honest, as I get older I just have a hard time staying in hostels anymore especially if it's a dorm, so if I can book a free stay at a comfortable or even a luxury hotel, why would I turn down that opportunity? Plus, free is much better in my opinion, especially if you need your travel funds to last you for an extended period of time.
The 28 free nights booked were reserved through various methods including hotel rewards points earned through credit card sign up bonuses, Best Rate Guarantee and the Hotel Quickly app. Here are the totals of my free stays ranging from June to August in Southeast Asia:
JUNE
Bangkok, Thailand: 5 nights at Crowne Plaza Lumpini Park (Breakfast included, Club Lounge access)
Siem Reap, Cambodia: 4 nights at FrangiPani II (Breakfast included)
Total: 9 free nights
JULY
Phnom Penh, Cambodia: 1 night at InterContinental Phnom Phen
Ho Chi Minh City, Vietnam: 1 night at InterContinental Saigon (Breakfast Included, Club Lounge access)
Hanoi, Vietnam: 8 nights at JW Marriott Hanoi (Breakfast included, Club Lounge access)
Total: 10 free nights
AUGUST
Ao Nang, Thailand: 5 nights at Royal Nakara
Kuala Lumpur, Malaysia: 1 night at Marriott Renaissance Kuala Lumpur (Breakfast included)
Kuala Lumpur, Mayalsia: 1 night at InterContinental Kuala Lumpur (Breakfast included)
Singapore, Singapore: 1 night at the InterContinental Singapore (Breakfast included, Club Lounge access)
Singapore, Singapore: 1 night at the Hilton Conrad Centennial (Breakfast included)
Total: 9 free nights
In the combined three months, that's a total of 28 free stays in 5 different countries, not counting Indonesia which I have yet to complete stays for during September. That's almost one month in free hotels which I think is a superb savings—not to mention the average hotel was well above 3 stars.
What's great about the free bookings is that most of them included free buffet breakfast as well as Club Lounge Access which means we received unlimited complimentary happy hour alcohol (wine, liquor, cocktails, beer), snacks and appetizers. This can save a ton on daily food costs for the budget traveler. The perks are an added benefit thanks to some of the hotel credit cards we have that give us free elite status with the hotel brand.
In addition to the 28 stays, we have about five more in September in Bali at resorts and boutique hotels which I am absolutely looking forward to! I mentioned that booking free stays is easy, and some methods are easier than others. Here is a recap of what we used on our trip to score the free stays:
Earn Credits from Hotel Booking Apps
With hotel booking apps, such as Hotel Quickly which mostly covers hotels in Southeast Asia as well as Australia and New Zealand, you earn credit by inviting your friends to join and once they book and complete a stay you earn more credit. The credit translates into money, one credit= $1. Simply share your promo code using Facebook, Twitter or text messaging and earn enough credits for free nights. Total hotel days booked using Hotel Quickly? 9!
If you are not traveling to Southeast Asia, there are other hotel booking apps that work similarly such as Hotel Tonight. Hotel Tonight has hotel booking options all over the world including all of the US states, Argentina, Turkey, the UK, France so you are not limited to one region, but hotel options are not revealed until the day of the stay so this app is great for last minute deals like Hotel Quickly. Currently Hotel Tonight is offering new members $25 and for every friend who signs up using your code and books a stay, you will receive $25. So you get a little something and they get a little something.
If you decide to sign up and want to use my code it's always appreciated: SAKSU2
Also, if you have a referral code please feel free to share it in the comments below as well.
Best Rate Guarantee
Another way to get free hotel stays, which does entail some busy work is by taking advantage of IHG's Best Rate Guarantees (BRG). Many hotels offer BRG's, but IHG offers a very generous reward as long as you can find one. A BRG is honored when you book a night using IHG.com, then shortly after you find a better deal for the same exact stay on a different website. IHG's BRG policy is that if you find a better rate on a different site and submit a claim within 24 hours of your booking, your first night will be free and your second night will be reduced down to the lesser rate you found. For a step-by-step on how to make this happen, you can read my article, The Basics of IHG Best Rate Guarantee. In total I was able to get four BRG stays at IHG hotels in some of the most expensive cities along my trip, including one upcoming stay at the Intercontinental Bali.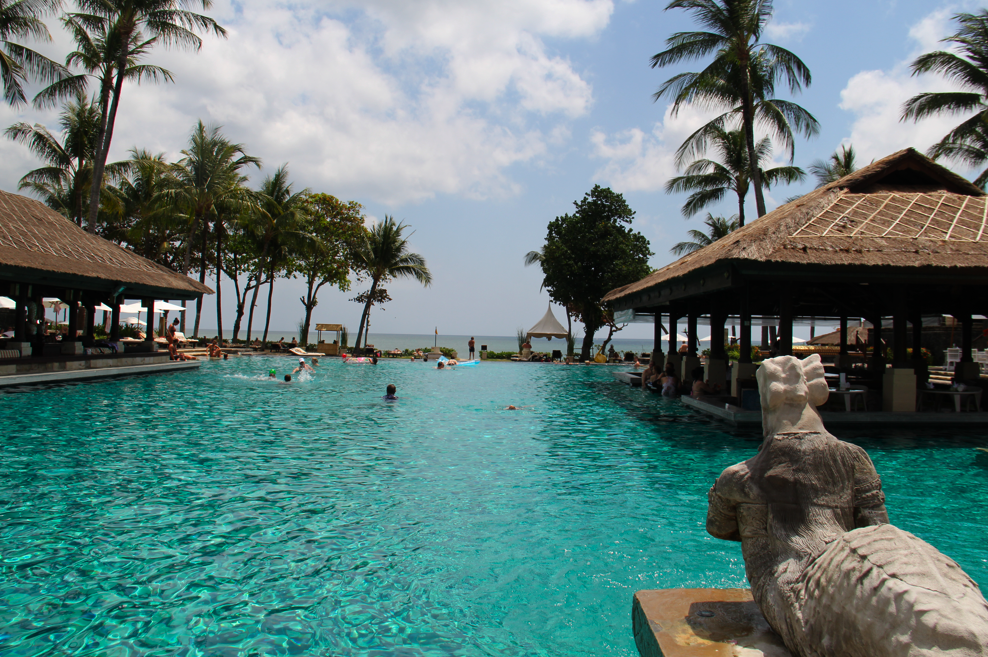 Hotel-Branded Credit Cards
Last but not least, hotel rewards credit cards with sign up bonuses are a great way to get free nights at luxury brand hotels. Some hotel co-branded cards offer the potential of earning status which typically come with free upgrades and free breakfast with your stay. Depending on the hotel category and sign up bonus, you can book several free nights. For example, the Chase IHG Rewards Club Visa has a sign up bonus of 80,000 points after spending $1,000 in the first three months of getting the card. With 80,000 points you can book two nights at the InterContinental Bali, or stretch out your points like I did last year at the Holiday Inn in Istanbul, but do it at the Holiday Inn Express in Kuta, Bali for 20,000 per night so you can book a total of four free nights.
Last Bit
Regardless of where you stay, there may be different factors that are important to you that can determine the types of free stays you want to try to get. For example, if I actually had to pay for a room at the InterContinental, I would not book it because paying for one night would completely off-set my budget. However, everyone knows that at times traveling is exhausting so being able to unwind and relax in a plush room even for one night before traveling the next day on a 9 hour bumpy bus ride is something I do not take for granted. Especially if I can make it happen for free. If you would like more advice or tips on how you could book free stays while traveling, or even for a staycation please don't hesitate to ask in the comments section below!
If you enjoyed this post, why don't you follow Adrift Anywhere on Facebook or subscribe to get updates on budgeting tips, travel advice and tips!
Susan is a travel and lifestyle writer from Los Angeles, California. A lover of the outdoors, beautiful landscapes and different cultures, she's been on the road for the last 6 months in backpacking Southeast Asia and Argentina. Her loves include strong coffee, pristine beaches, a challenging hike and luxury-budget traveling.
Latest posts by Susan Aksu (see all)