There are so many great travel resources out there that can make traveling more affordable and meaningful. You don't need thousands of dollars to travel or to explore the far reaches of the world. All you need is the right information and the confidence to make it happen. There are several programs and organizations that can help cut the cost of your travels immensely and also help make moving around much easier. Here are my picks for travel resources that I personally have used or have researched thoroughly and trust.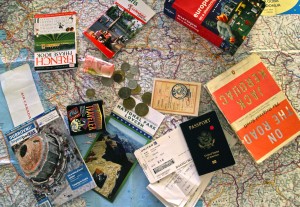 Hostel World and Hostels.com – Booking nights at a hostel are one of the cheapest ways to save money on accommodations and it's also a great way to meet people while traveling. Hostel World and Hostels.com are two sites I use when I am booking a hostel and I completely trust the reviews that users leave on the site.
Couch Surfing – Stay and/or connect with locals during your travels for free through couchsurfing.org.
WWOOF – World Wide Opportunities on Organic Farms: Linking volunteers with organic farms and growers. Often times, farmers will provide you a free room and a meal or two in exchange for volunteer work on their farm. I have had several friends who have taken part of this in Greece, Italy and Nepal and they all enjoyed and recommend the program. I plan to WWOOF sometime in 2014 either in South America or South East Asia for a few weeks.
Compare Travel Insurance – A handy guide that gives the basics about different types of coverage travelers can expect on a typical travel insurance policy. This is a very useful resource on the importance of purchasing travel insurance coverage while abroad for any length of time.
CIS Study Abroad– In college? By signing up for a study abroad program through your university, you might be able to get financial aid to cover your travel and living expenses abroad. If you are considering to study abroad, make an appointment at the study abroad office on campus as soon as possible in case spots are limited for the country you want to study in.
Traveler's Health – The CDC provides a page that lets you know what type of vaccinations are needed for any of the countries you are visiting. You should take care of your vaccinations well before you begin your travels in case they're expensive and you don't have health insurance or will need several vaccinations over a period of time. If you don't have health insurance,you should contact your county or city's health department for low cost vaccinations.
VisaMapper – *VisaMapper is currently down, but they plan to bring the website back up on a different server* You may or may not need a Visa depending on the passport you are traveling with, so you need to be clear on visa rules and regulations per country you are visiting. The VisaMapper is a good source to see if you do need one and you can also purchase a Visa through the site. 
XE- Currency converter with iOS and Droid apps available that will come in handy anywhere you travel to.
Award Wallet – Award Wallet helps you keep track of your frequent flyer miles and lets you know if your miles are close to expiring. Treat your miles like gold, they can get a free flight or even a free night at a fancy hotel in Europe. (Let me know if you register using my link, I can provide you with an AwardWallet upgrade code! )
SquareMouth – SquareMouth  lets you compare quotes and purchase travel insurance from different providers. It's easy to navigate and has major/popular providers for comparisons.
Skype-Use Skype to make free 1(800) calls like to your bank in case of an emergency and free video calling to anyone, anywhere in the world as long as you have internet connection.
WhatsApp- WhatsApp is an app that lets you text and make phone calls for free to other people who also have Whatsapp. Before leaving for a trip, make sure that the people who you will want to keep in touch with you have the app downloaded. While you're traveling, you will also find that most people use WhatsApp as their main text/phone service to save money so if you need to get in touch with your AirBnb host for example, using the app will come in handy.
Uber- For a ride service you can depend on in over 30 countries, Uber is your best bet. The telephone app lets you reserve a ride in one of the four types of vehicles available in your area with rates that are quoted before hand and can be paid for through your phone app especially If you don't have cash of the country's currency with you if for example you just landed in the airport.