With less than two days into our road trip across Montenegro, Bosnia, and Croatia we were cruising through the stunning landscape of the Tara Canyon with our rented Clio hatchback and when we heard a loud thump. The loud thud was of a size mid-sized piece of a boulder landing on the roof of our car, and thankfully just barely missing the rear windshield.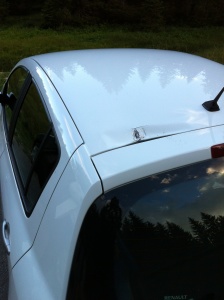 The rock actually punctured a hole through the top layer of the roof and allowed rain water to flow inside, and later we would later learn that our makeshift patch (aka a plastic bag that we secured in there) did not hold up in a down pour.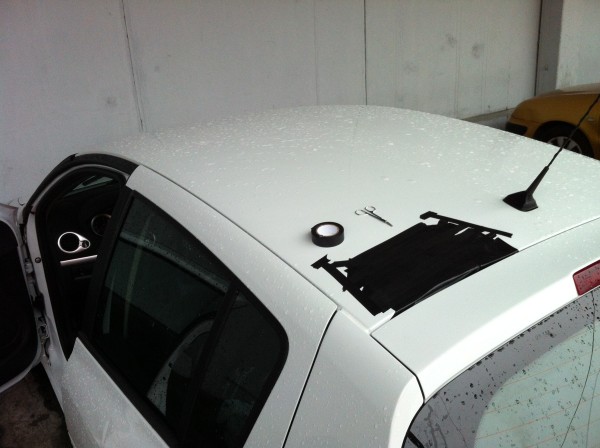 The point of this post is not so much to share the story of how a rock fell on our rental car, but rather how to work with Visa or other credit card issuers when damage occurs to your rental car. One of the major benefits of using a credit card to pay for a rental car is that the card provides car insurance. Some cards only provide secondary coverage, but in our case, we paid for the rental car in full using a Chase Premier Marriott Credit Card which provides primary rental car insurance.
With most credit cards you have to waive the Collision Damage Waiver and any other insurance the rental company wants to sell you. In our case the insurance was included in the rate and I was not able to decline it, which still makes me eligible for the coverage provided by Visa. Per the representative at the Visa claims center: as long as you can not decline the insurance, or there is no place on the agreement to decline it, you will be covered. I asked the car rental company repeatedly if it was possible to decline the insurance and the answer was simply that it was mandatory and included in the rate. Gosh I wish I had my preferred Shelter auto insurance agent!  Moving cities can really cost you a lot in way that are almost unforeseeable my agent would of solved my problem so quickly back home.
So, what do you do if you damage your rental car?
Step 1. The first thing is to read over your rental agreements to see what the terms and conditions steps are necessary to take with the rental car company. Most likely it will involve at the very least contacting the company and explaining the situation. If the damage was caused by another car, our agreement said we were required to call the police, but that was no the case in our situation. Since we had just started our two-week drive across Montenegro and Croatia the rental company told us to deal with them when we return the car.
Step 2. Read over your credit card terms and conditions and benefits to get an understanding of what steps need to be taken. This will also inform you on what types of damages are covered and what is not. Visa recommends that you contact them immediately following the damage, but in all cases you must submit a claim within 45 days of the event. I waited to call Visa several days later for when I had good Wifi service to call on Skype. 800 numbers on Skype are free.
Benefits for different card issuers can be found here:
Step 3. Return the damaged rental car. Upon returning the rental car you will likely have to complete some paperwork with the rental company and detail how the damage occurred. You will also be liable for total of the damage, which will be taken from the pre-authorized amount the car company charged you when you signed the rental agreement. In our case the deductible with the insurance that we could not decline was 400 Euros, so the car rental company held that until they finalized the damage total. You will be expected to pay for the damage upfront if you decline the CDW to be covered under your credit card's rental car insurance.
Step 4. Create a claim by phone or online using Visa's online form. You must submit a claim form within 90 days from the date of the damage and must include the following information:
A copy of the accident report form.
A copy of the initial and final auto rental agreement(s).
A copy of the repair estimate or itemized repair bill.
Two (2) photographs of the damaged vehicle, if available.
A police report, if obtainable.
Any other documentation deemed necessary by the Benefit Administrator to substantiate the claim.
This means that you should either: try to get copies of all of these documents upon returning the vehicle or what more likely is to happen is that the company will have to forward all the necessary information to you once they receive a repair estimate. In our case we had to leave our email information with the company and wait until they had an estimate prepared and bill from the repair. It is possible this may take a while, but hopefully the car rental company returns all of the required documents in a timely manner. I received an email with all of the documents within 10 days of returning the car.
From Visa's terms: "If you experience difficulty in obtaining all the required documents within ninety (90) days* of the date of theft or damage, just submit the claim form and any documentation you already have available. NOTE: All remaining documents must be postmarked within 365 days of the date of theft or damage."
Step 5. Wait for a response from Visa. Normally your claim will be finalized within 15 days of submitting all the necessary documents to substantiate your claim. If your claim is approved, you will receive a reimbursement for the total paid to the rental car company.
Credit cards can provide excellent rental car insurance and often times save you money upfront by allowing you to decline the additional insurance the car rental company wants to sell you. It always pays to read over the terms and conditions before you book a trip and get to know exactly what is covered and what steps you will need to take if (Mother Nature forbid) a rock falls on your car!
Have you damaged a rental car? Was it covered by credit card insurance? I would love to know your experiences!
If you enjoyed this post, why don't follow Adrift Anywhere on Facebook or subscribe to get updates on budgeting tips, travel advice and tips!
Susan is a travel and lifestyle writer from Los Angeles, California. A lover of the outdoors, beautiful landscapes and different cultures, she's been on the road for the last 6 months in backpacking Southeast Asia and Argentina. Her loves include strong coffee, pristine beaches, a challenging hike and luxury-budget traveling.
Latest posts by Susan Aksu (see all)