Before I visit any new country, I always run a quick Google search of Armenian restaurants or other establishments that may be in the region. You see, there is a huge population of Armenians that are in the diaspora, meaning that they are living outside Armenia due to several reasons, most consequently of the Armenian Genocide the Turkish-Ottoman Empire committed. Because of this reason, I geek out when I come across Armenians living in the far reaches of the world especially outside of Los Angeles.
I was in Singapaore in September and I had the opportunity to geek out when I learned about the Armenian community that left a significant mark starting in the early 1800s. Singapore, to this day has a huge expat community. Currently, there are not many Armenians living in Singapore and I did not meet any while I was there, but signs of the significant contributions that the Armenian community left are still very prevalent today and worth sharing.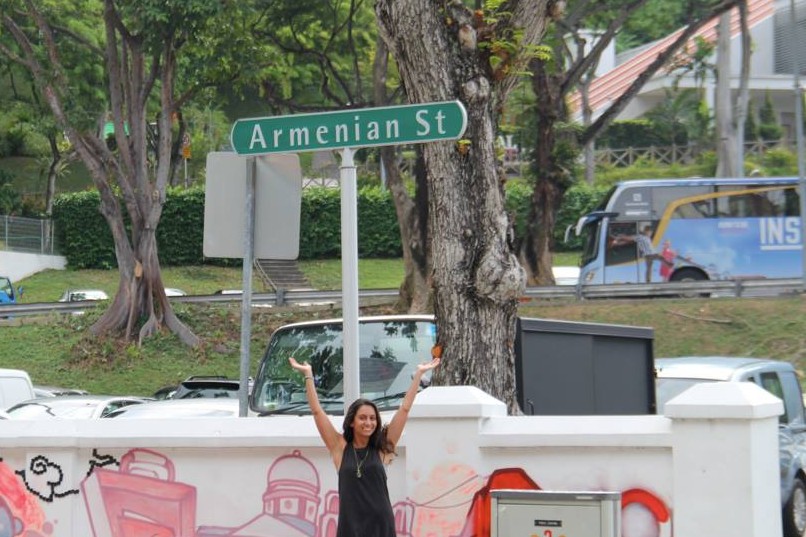 In Singapore, there actually is an Armenian Street in one of the busier sections of the city. Also on Armenian Street is an Armenian Orthodox Church, St. Gregory the Illuminator, that was established in 1835 by the first Armenian community that emigrated from Iran. The founding church community had only about 15 members and yet they established the first church in Singapore.
I took a stroll one day and found that Armenia Street was only a few blocks from my hotel and I walked up the street until I saw khatchkars, Armenian crosses, in the cemetery of a humble white Baptist style church. I made my way to the front of the church and there it was, St. Gregory Armenian Apostolic Church. Not only was it the first and only Armenian church in Singapore, but also the first church in general to ever be built on the island of Singapore. In 1973, St. Gregory became a dubbed as a national monument of Singapore.
Who were these people who founded an Armenian church in Southeast Asia? They actually were very prominent figures in the Singaporean community in different aspects. If you have ever been to Singapore, you may have heard of Raffles Hotel. Raffles Hotels were owned by four brothers: Martin, Arshak, Aviet and Tigran Sarkies. The four came from Iran and eventually opened a chain of luxury hotels throughout Southeast Asia includeing Burma and Java, but the Raffles Hotel is still to this day one of the more well known luxury hotels in Singapore.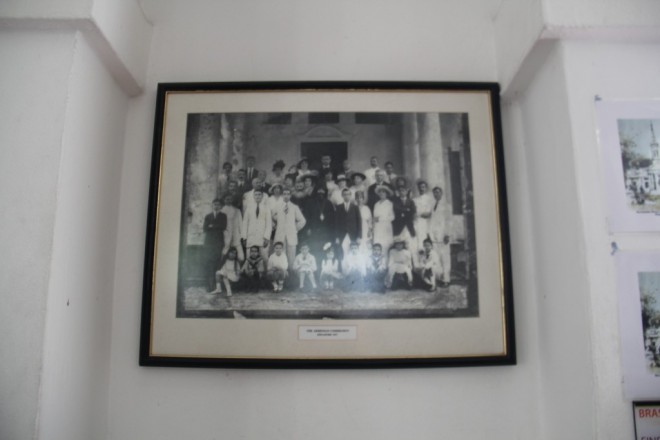 Another great contributor to the Singaporean community was by Agness Joaqim. Agness was a horticulturist and in 1893 created a new orchid breed which ended being named Vanda Miss Joaquim. The orchid was submitted in a flower contest and Agness's hybrid won. Sadly, that same here she passed away after battling cancer. A little over 100 year later, the orchid became the national flower of Singapore.
As a journalist, one member of the community which stuck out to me is Catchik Moses who founded the Straits Times Newspaper in 1845 which is currently still in major circulation.
I was hoping that while in Singapore I would run into an Armenian or two in the church, but never had the opportunity to. Either way, I was glad to be able to learn about such a great foundation from a community that was small in numbers, but made a wave contributions to Singaporean society. For many people, finding out accomplishments or another human being who they share ancestral ties with may not seem like a big deal, but not only do I love to know where I am from and the struggles my ancestors experienced to not only keep our cultural integrity alive, but I also love and appreciate learning about the culture my friends and neighbors descend from. I want to know what you grew up eating and where that recipe was passed down from, which tall tales your parents told you to keep you on your best behavior that were probably passed down from generations and also in what ways did your culture influence a community, positively or negatively. I grew up in a closely traditional Armenian household, but I didn't know many Armenians outside my family until I was in high school which is when we moved to a largely Armenian populated city. So growing up, I was always fascinated when I learned people of my ancestral background were accomplishing great things despite any indifference they may have dealt with. I'm still always impressed.
How do you feel about culture and staying close to your roots?
Want more photos? Check out my Instagram @adriftanywhere_travelblog 
If you enjoyed this post, why don't you follow Adrift Anywhere on Facebook or subscribe to get updates on budgeting tips, travel advice and tips!
Susan is a travel and lifestyle writer from Los Angeles, California. A lover of the outdoors, beautiful landscapes and different cultures, she's been on the road for the last 6 months in backpacking Southeast Asia and Argentina. Her loves include strong coffee, pristine beaches, a challenging hike and luxury-budget traveling.
Latest posts by Susan Aksu (see all)