I just spent 30 days in Vietnam while backpacking through South East Asia and Vietnam quickly has become one of my favorite countries that I have ever visited. One of the main reasons being Sapa, a great hill town in the northern Vietnamese highlands.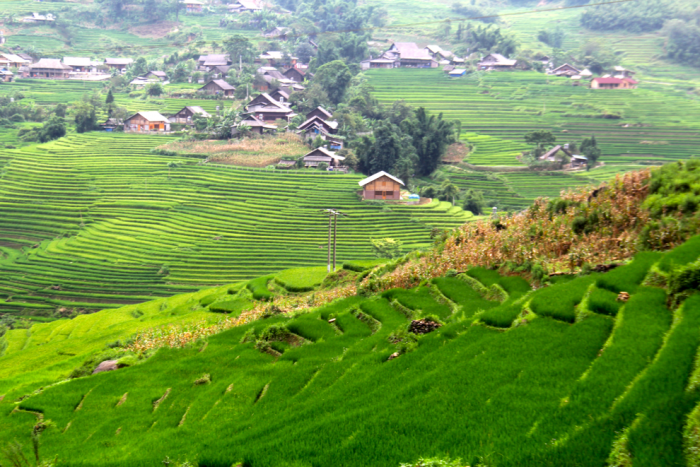 I did the usual touristic stops that everyone visiting Vietnam must do such as an over night cruise on Ha Long Bay, took a day trip through Tam Coc in the Ninh Binh Province, had clothes made in Hoi An, checked out the night markets and visited several museums in Hanoi and Saigon.
Needless to say there is a lot to do in Vietnam, and by no means is it a quick breeze to get from one area of Vietnam to another. Distance and travel time unfortunately is a major reason so many people skip Sapa, which is 10 hours northeast of Hanoi on sleeper train. However, if you find yourself in Vietnam from March to August, I highly recommend making a trip there.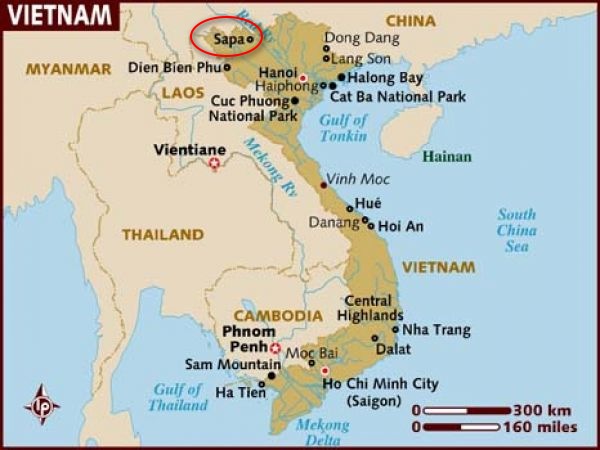 There are a few thing I try not to take for granted in life. Some of those things are a good hike, fresh air and a chance to learn about different cultures. In the US, we have a melting pot of cultures and traditions from around the world, at least depending on where you live, but the beauty of them is usually kept under wraps, enjoyed with family and friends from similar backgrounds because once you step foot on campus or the work place there is no platform to express traditions with the exception of a few instances like a holiday potluck (my favorite days, yum).
Travel allows you to experience local customs, traditions and ways of life, but it can be hard to get a true impression when so many of the major cities and even some smaller ones have become westernized and cater to tourism for various reasons. The highlands of Sapa offer that opportunity and while so many people decide to bypass Sapa because of the distance and cost to get there, at the same time the city depends on tourism and a lot of tourists that do make their way there. There are eight ethnic groups in Sapa: H'mong, Tay, Giay (pronounced Zai), Muong, Thai, Hoa (ethnic Chinese) and Xa Pho so you can imagine the amount of diversity.
Reasons You Should Visit Sapa, Vietnam:
You have the opportunity to learn about ethnic minorities within Vietnam first-hand
The landscape is one unlike you most likely have ever seen before
There are miles and miles of trekking trails from village to village
The air is fresh and the temperature is much cooler than in Hanoi or Saigon/Ho Chi Minh City
There is no traffic (i.e. no unnecessary and excessive honking) so you feel comfortable walking and even renting a motorbike for the day
The city of Sapa itself seemed to be close to 100% tourism dependent so there are several hotels, lodges and restaurants all catered to tourists. Even with that knowledge, this area is beautiful and is a good base to begin from before exploring the various villages and a taking part in possible home stays.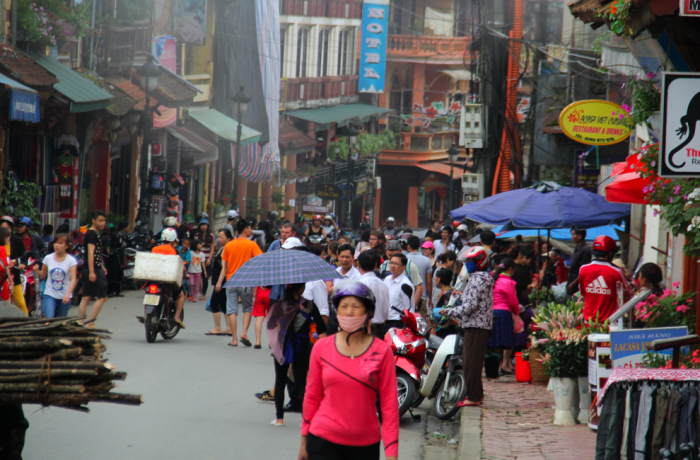 Sapa is known for its expansive highlands covered in rice terrace fields, although there is a large amount of corn being grown there as well. The rice terraces work as a great irrigation system to prevent flooding of the rice fields and thus creating mini water falls throughout the valley. It is absolutely beautiful and if you are standing above the terraces you will most certainly see nothing but rice terraces and locals houses made of wood even—for miles and miles.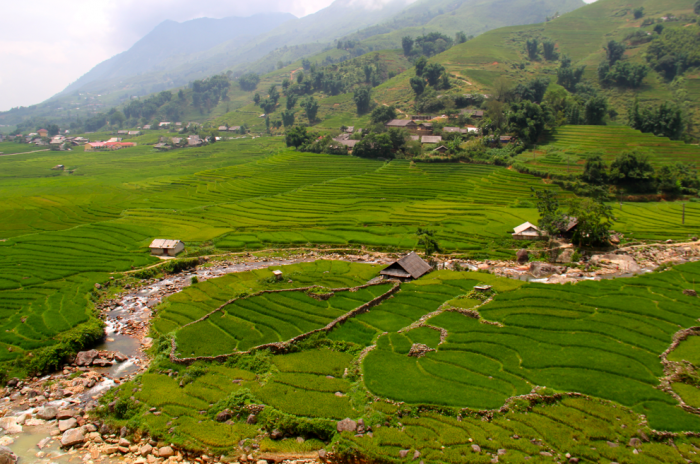 When you first arrive in Sapa with your minibus, you will get dropped off either outside of your hotel or near your hotel, but regardless of where you are let out, you will be welcomed by a swarm of H'mong women dressed in traditional clothing made with hemp and dyed with natural indigo. They will offer to show you where your hotel is, ask you to buy from them later (a pinky promise may be required), and offer to take you on a trek to their nearby village. Welcome to Sapa!
You will see the women waiting for you to get out of the van as they crowd around the door and honestly it can make getting out a very intimidating experience. But in truth, you will soon come to love these women, they are extremely kind people and have a sense of humor, but they are trying to make a business selling their beautiful handcrafted work to tourists. One may walk you to your hotel to show your where it is whether you ask for help or not, but she does not expect anything out of it. In Hanoi for instance, someone may offer to show your where the train station is, but will expect a tip.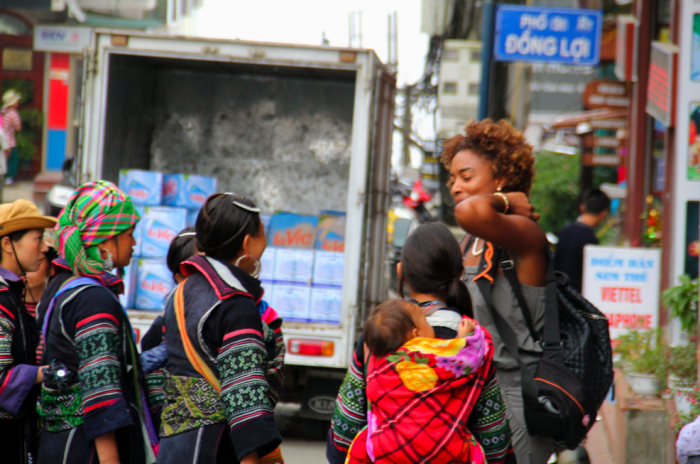 They will also be quick to claim you as a customer by gifting you with a bracelet so that you will not buy from the other women. You can trek with someone else, but you have to pinky promise that you will only buy from them. They are quite the hustlers. Of course you never have to commit to anything, but you will easily build a relationship with these women.
The H'mong women are known for their embroidery skills that they master by the time they are 10 years old,  garments designed with plant-based dye sometimes using the batik dye method, silver jewelry and other handcrafted items they make such as hats, sashes, belts, and the most beautiful baby carriers.
 Guided Treks to Nearby Villages with H'mong Women
There are about 13 villages you can walk to within the different districts of Sapa and although you can easily access them by yourself, you will be persuaded into believing you need a guide to get to them. If you do not want to get lost, you may want a guide, and I do recommend a guide if you want to homestay with a H'mong family or at least be invited into their home so that you may see what true village life is like. You can negotiate about $15-30 for a trek down to the guide's village as well as to other villages with the option to have dinner and spend the night in their home. Your stay can either be a positive one or negative one depending on how open you are to different walks of life.
We decided not to do a homestay, but we walked down to our guide Bo's village which took about 4-hours. If you are hiking to villages which are farther out, you will most likely have to do a homestay for a night or two. Organized trekking companies offer packages for homestay lodges that can be upwards of $200 that include your transportation from Hanoi. After we completed our trek, our guides' husbands took us back to the city on their motorbikes.
The trek could have easily been done on our own and at our own pace, a guide is not so necessary, but it offers a unique experience and at the same time you are contributing to their house hold income. If you absolutely do not want a guide, no problem. From either side of the Sapa, when you begin to walk towards the village you are required to pay 40,000 dong for entry with or without a guide, which is about $2 USD.
Renting a Motorbike in Sapa
One of the best ways to really see the Sapa countryside is by renting a motorbike, filling it up with petrol and exploring the roads leading to who knows where. Not everyone is comfortable riding a motorbike for obvious safety reasons, but you can also hire a guide to ride with. Rand and I rented a motorbike all day for $5, filled it up and saw some of the most beautiful landscapes and quaintest villages. We received a few looks by the locals probably curious about why we were there, but for the most part it was all shy smiles and waves from curious ones. Most of the roads leading to the various villages are not paved yet, but there were crews working on it when we were driving through which is a positive move for the villages. During the rainy season I could imagine them being isolated from the rest of the province because of mudslides and muddy roads, which is a recurring issue there.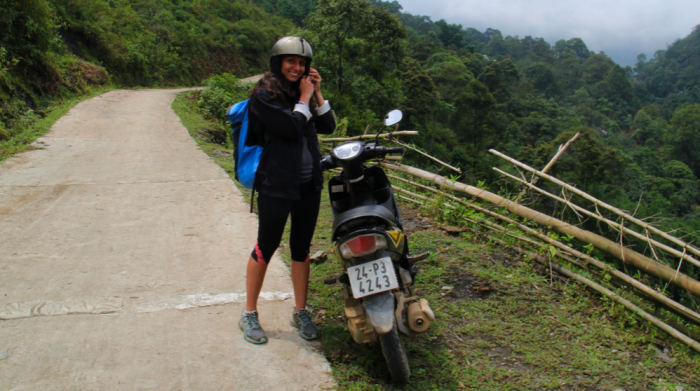 Throughout our time in Asia, we came across several people with stitches, crutches or heavily scraped skin from motorbike accidents, and 100% of the time they were tourists. While riding a motorbike is one of the best ways to see the countryside or city, be cautious while riding. Wear closed toed shoes so if you do fall off, at least you can somewhat protect your feet. I refused to ride a motorbike with Rand in the city because it is so hectic, though there is a slow speed limit. In places like Sapa and Pai, Thailand there is not a lot of traffic and motorbikers are not driving erratically so it can feel comfortable to ride there. Though this may not pertain to you, especially if you are used to riding scooters or motorbikes in busy cities.
 Villages Off-the-Beaten Path Near Sapa
We spoke to a Dutch couple and I was extremely envious of their trip. They hired a Vietnamese driver who took them to different provinces and villages and stayed in the homes of locals. While that was not an option for us, we still had an opportunity to visit the villages within the Sapa vicinity. There are mixed feelings about visiting the villages, such as exploiting their culture and turning it into a culture catered to tourism. The one thing to understand about the women selling their goods to tourists and offering to take them on treks to their villages is that most of the money they earn goes into maintaining their land. As long as you are respectful of their culture and traditions, I personally do not see a problem in working with them and I do not see it as exploitation. They need to earn money and selling to tourists helps them subsidize their costs. I observed how hard they work, they may walk for hours to get into the main city to sell to tourists, something to keep in mind.
In villages that are farther away from the city of Sapa, you do not come across many people trying to sell things to you or anyone who even bothers to talk to you. The people just go about their day, working hard on the land and that is as real as it gets.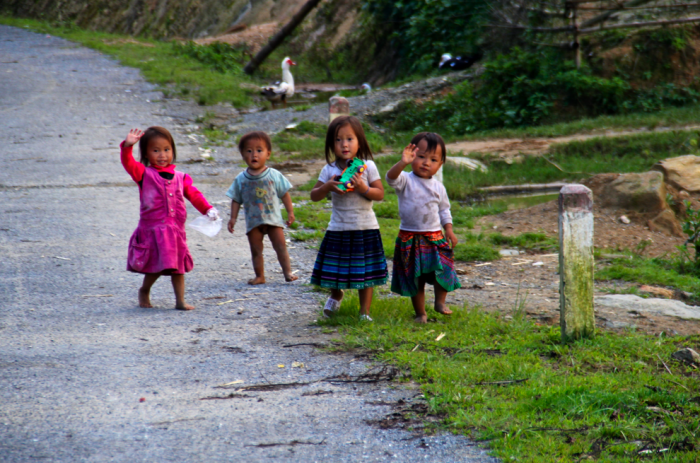 In Sapa, you are in close proximity to several villages and the easiest one to walk to is Cat Cat which is a H'mong village. It is about 6 kilometers away from town walking down hill. Once you get to the entrance of the village, you will come across a ticket counter, who insists you have to pay to continue walking through the road, but it's really for access to the Tien Sa Waterfall, which you walk down to from left of the road. Another local was standing there and he told us that to walk through the road we did not have to pay anything because "there is nothing to see there." Quite the contrary– there were fields of rice terraces, people going about their day, kids playing on a field and live stock roaming about.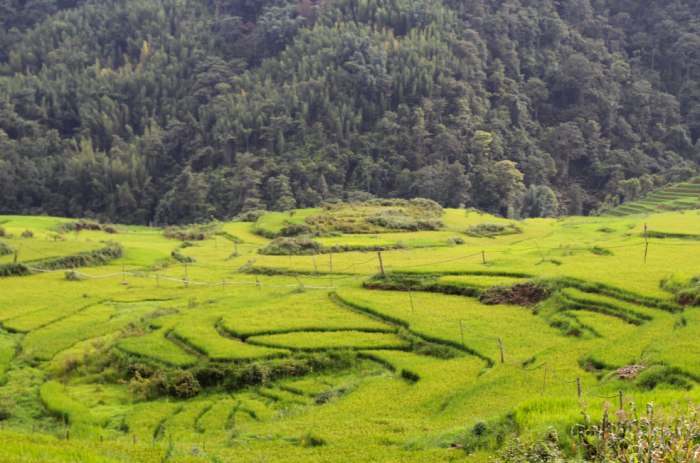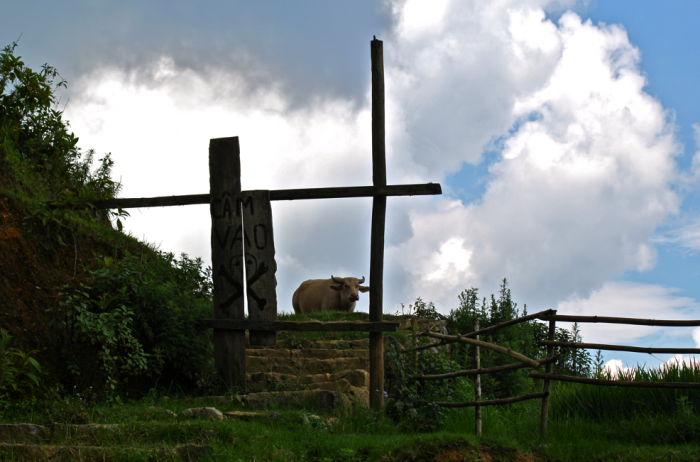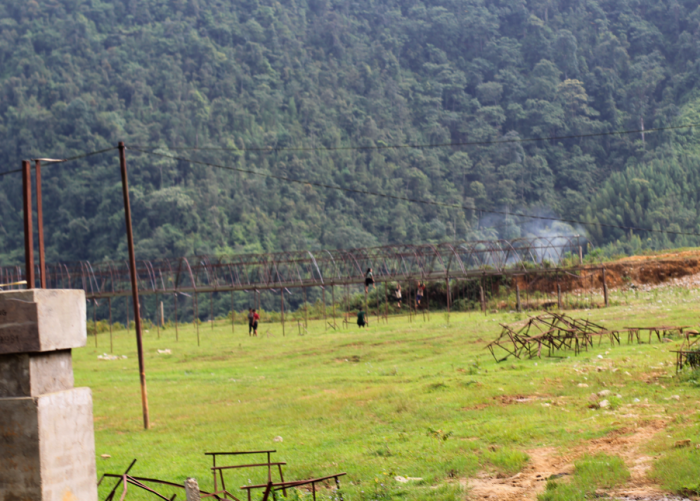 On the day of our trek with our guides Bo and Vu, we trekked towards different Dzao and H'mong Village including Ta Van, Giang Ta Chai, Ban Ho and Seo Trung Ho. The whole trek took about 4 hours and because it is the rainy season the trails were a bit muddy on some sections, but not so much that the trails are impassible. The trek switches from trails between rice paddy fields to wider roads for tractors and cars to be able to pass through, but you can avoid taking roads for most of it, though regardless you are walking through villages. I suggest bringing money with you to purchase goods from elderly women selling handcrafted goods from their homes.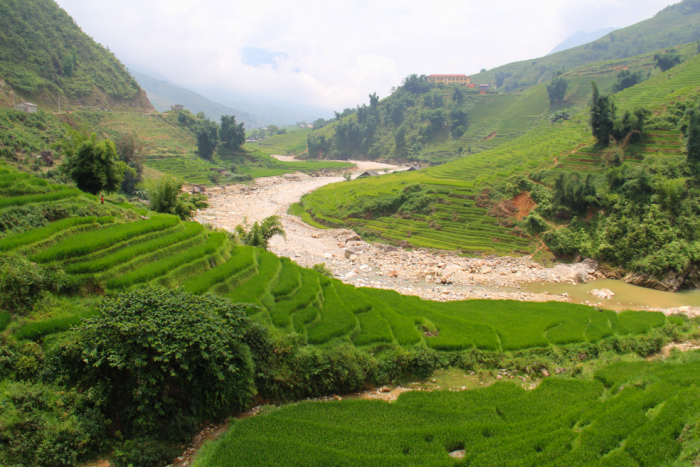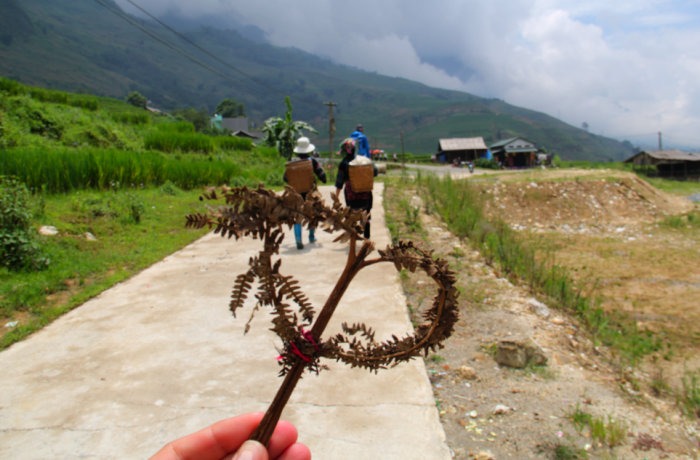 I purchased a beautiful blanket from a H'mong woman made with hand spun hemp and natural flower dyes, specifically indigo. You might be thinking, if there is hemp there must be marijuana in Sapa. Yes there is marijuana and some of the local people do smoke marijuana, but absolutely do not go to Sapa to buy drugs. Drug use/sale/possession in Vietnam is illegal and promoting drug trafficking within the villages can come with severe consequences. Think Brokedown Palace.
Children in Sapa, Vietnam
When you walk on the roads you sometimes walk by a school and small markets. We were there during what would be a school day and I was heartbroken to see so many school aged children selling goods on the roads instead of going to school. Every single school building we walked by, maybe three, was unoccupied. For a moment I thought, well they are on summer break, but every other school we encountered in July had students attending classes.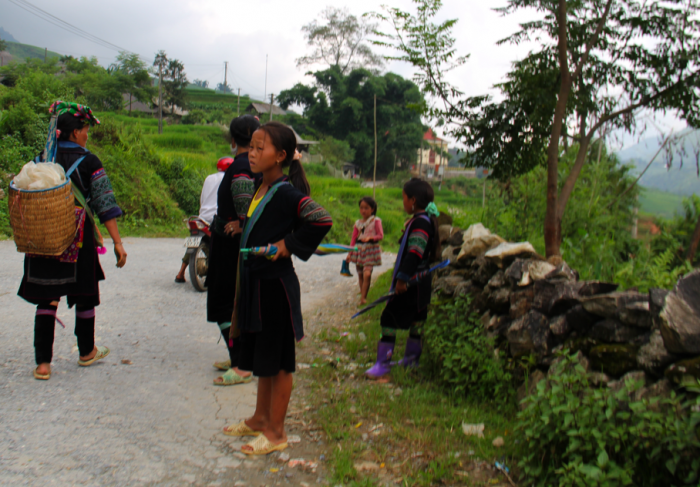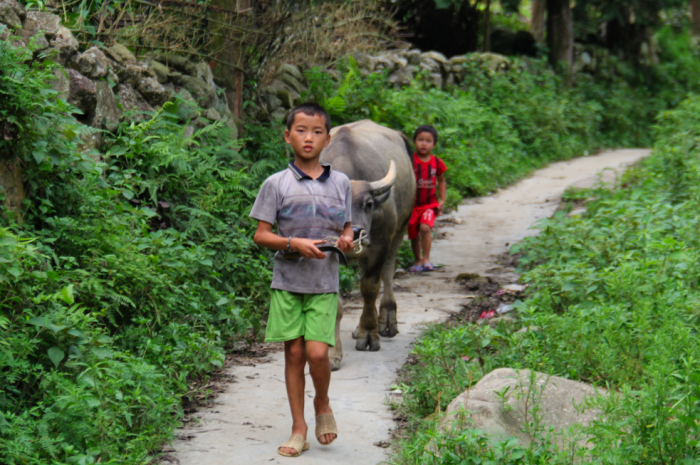 When is the Best Time to Visit Sapa
Sapa gets a lot of weather, and true seasons, and by that I mean it gets hot in the summer and cold in the winter. Because it gets so unbearably cold and wet in the winter the rice harvest must be done before then, meaning that if you are after October there will not be any green fields of rice paddy. The winter season begins in November and ends in February and the entire area is wet and muddy which makes it pointless to make the journey up there if you are on a time crunch.
Rice crops are planted in the spring so unfortunately you will miss much of the beauty if you arrive to Sapa in the winter and it will be difficult to go on any treks. The best time to go to Sapa is between March to May, and after that time frame you get some rain on a daily basis usually in the afternoon, but it is still stunning. While I was there in July it rained a bit every day and it was fine because we were still able to do anything we wanted. In the morning we went on treks or a motorbike ride and when we would return we would sit at a cafe's perch, drink a Tiger lager and watch the rain come down.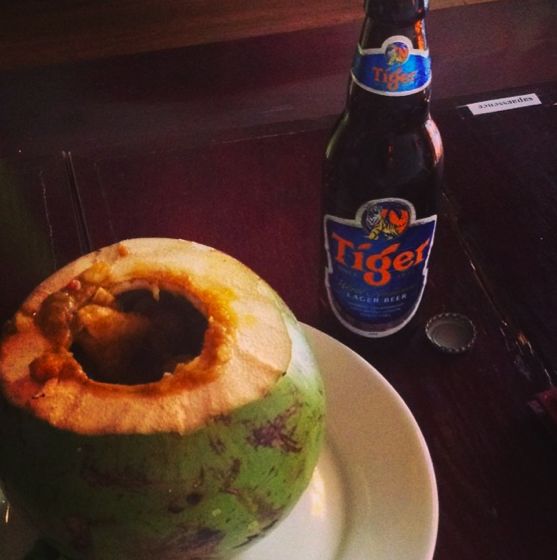 How to Get from Hanoi to Sapa
Sapa is a 10 hour train ride away from Hanoi, but a bus is also an option though not the most comfortable or safest because the road conditions are good between the two destinations. I took the sleeper train on a Friday night and we were lucky to be able to find a soft sleeper cabin because weekend travel is extremely busy. The sleeper train leaves from Station B in Hanoi everyday and you can book a cabin either with Livitrans, Hara, Orient Express, ET Pumpkin and Tulico. We had to go with Livitrans because it was the only one available and it was comfortable enough considering we slept through the night until we arrived in Lao Cai. In Lao Cai we boarded a minibus which waits for passengers to arrive to take them to Sapa. There are several minibuses there and if you have already made hotel reservations, your accommodations might include a free minibus service to the hotel so send the hotel an email about it to confirm. If not, then it's about $2 per person for transport.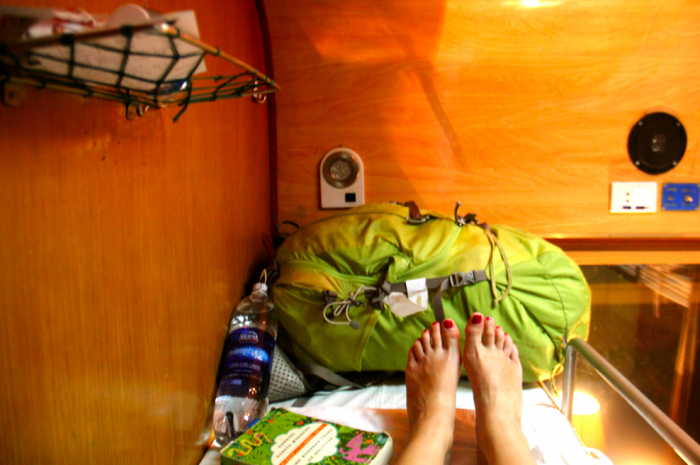 Have you ever been to Sapa or plan to visit on your next trip to Vietnam?
If you enjoyed this post, why don't you follow Adrift Anywhere on Facebook or subscribe to get updates on budgeting tips, travel advice and tips!
Susan is a travel and lifestyle writer from Los Angeles, California. A lover of the outdoors, beautiful landscapes and different cultures, she's been on the road for the last 6 months in backpacking Southeast Asia and Argentina. Her loves include strong coffee, pristine beaches, a challenging hike and luxury-budget traveling.
Latest posts by Susan Aksu (see all)