The Barclaycard Arrival Plus™ World Elite MasterCard® is currently offering a signup bonus of 40,000 miles after spending $3,000 in the first three months. While the Arrival is not a travel card per se, as in it doesn't earn miles towards a specific airline or hotel, the 40,000 miles can be redeem for $440 in free travel. Using the cards rewards are actually easier than redeeming airline miles since all you need to do is purchase any travel with your card and redeem miles for a statement credit.
On top of the free $440 in travel you get by earning the sign up bonus, you will also get a 10% rebate on your travel redemptions. Pretty sweet deal.

One of the best uses of the Arrival points is to redeem them for low cost airfare especially if you plan to take several shorter trips. You will find that you will save a lot of money by redeeming them for travel–especially for hotels or cheap flights.
While in Southeast Asia, I took a few flights from city-to-city or from one country to another to save travel time instead of taking a bus or train. The great thing about Asia, unlike in the US, is that you can find many airlines that fly internationally and domestically for less than $100, but even that can add up over a long trip. This is why I loved redeeming my Arrival miles to cover the cost of flights with low cost carriers.
Here is a list of low-cast airlines that serve Southeast Asia:
International
Domestic
Indonesia
Philippines
Singapore
Thailand
The airlines I mentioned above also have some international routes, but on my last trip I flew with JetAir within Vietnam (Ho Chi Minh City to Da Nang and Da Nang to Hanoi) on two flights and AirAsia within Thailand (Chiang Mai to Krabi). While these airlines focus on Southeast Asia, other major Airlines such as KLM can offer low-cost flights, which is what I flew on from Singapore to Bali.
Here is what I booked for Ho Chi Minh City to Da Nang and then from Da Nang to Hanoi. For each flight I purchased the airfare using the Barclays Arrival Plus card so that I could go ahead and redeem my miles to essentially get two free flights during my trip.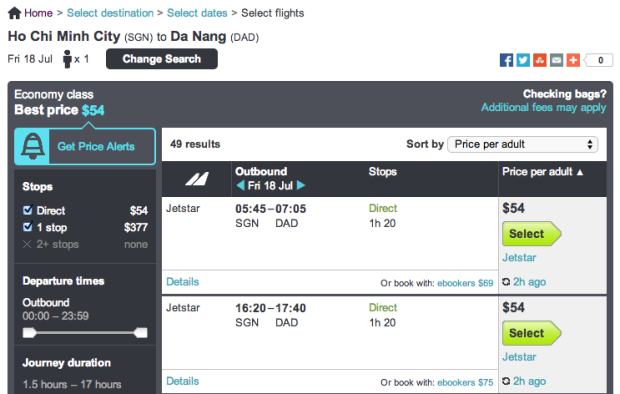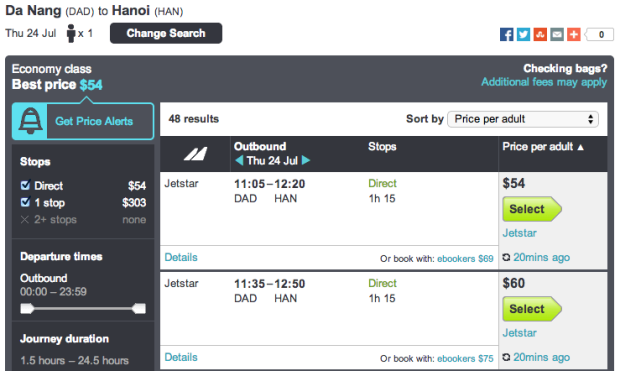 A great way to search for cheap flights in Southeast Asia is by using SkyScanner which shows results for low-cost budget carriers as well as major international airlines. Kayak is always a good point of reference, but it does not necessarily offer results for some of the low cost carriers that may have better rates.
I also did a lot of overland traveling in the 3.5 months that I was in Asia and after experiencing some of the roads and the long drives, but given the long travel times I actually preferred to fly to some of my destinations so that a)I wouldn't be too exhausted when I arrived and b)I would spend less time traveling.
How to Use Arrival Miles for Cheap Flights
When you book a flight with the Barclaycard Arrival Plus™ World Elite MasterCard®, you do not immediately redeeming your miles for an award. Instead you can purchase any flight, hotel, or any other travel, and once you make the purchase and it shows up on your statement, you can go ahead and select all of the travel expenses you wish to redeem Arrival miles for. This is a major perk of Arrival miles because you are not limited to flying with one airline, plus unlike award flights you will earn airline miles for your flights! You can even book through a travel agent, through the airline's website or even a OTA like Travelocity.com or Orbitz.com. You have much more options in booking tickets than you would with traditional airline frequent flyer miles.
A recap? The way it works is by booking your airline ticket with your Arrival Credit Card and redeeming miles to get a statement credit for the travel cost.
Of course this is not exclusive for travel within Southeast Asia. Even in Europe with budget carriers such as RyanAir or Southwest Airlines and Spirit Airlines in the United States, you could use your Arrival Plus miles for statement credit towards flights. If you have miles left over, then you can use them in the future.
If you enjoyed this post, why don't you follow Adrift Anywhere on Facebook or subscribe to get updates on budgeting tips, travel advice and tips!
Susan is a travel and lifestyle writer from Los Angeles, California. A lover of the outdoors, beautiful landscapes and different cultures, she's been on the road for the last 6 months in backpacking Southeast Asia and Argentina. Her loves include strong coffee, pristine beaches, a challenging hike and luxury-budget traveling.
Latest posts by Susan Aksu (see all)