After taking a break from earning miles via credit card signup bonuses, I received a targeted offer in the mail recently and decided to give credit sign up bonuses another go. I received an offer for the Citi/AAdvantage Platinum Select Mastercard with a 60,000 mile sign up bonus after meeting the $3,000 minimum spend in 90 days. This credit card does have a $95 annual fee, however it is waived the first year.
Card Application: Citi/AAdvantage Platinum Select Mastercard
Currently, there is a public limited time bonus offer for 50,000 miles which is still better than the 30,000 sign up bonus the card usually has. Be sure to check your mailbox for the 60,000 mile sign up bonus before applying for the card because it is a targeted offer.
I applied for the credit card online and was instantly approved for the credit card. I have since then received the card and have been working on hitting the $3,000 minimum spend. What's great is that you can track your spending to make sure that you are on the right path of spending that $3,000 in time.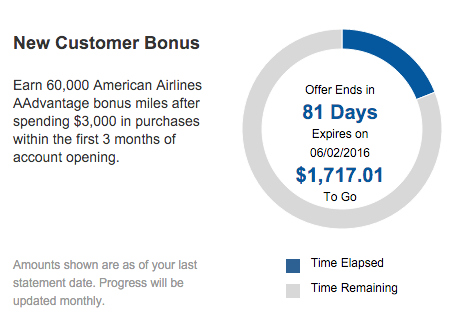 What are the perks of the CITI/AAdvantage Platinum Select Mastercard?
You earn a mile per every dollar spent on the card, but 2x miles if you make American Airline purchases (plus potentially more if you use the online shopping portal.)
There are no foreign transaction fees! This means that I can use this card while traveling abroad and not have to worry about any fees stacking up.
The checked bag on domestic flights is always free! If I happen to book a flight for my friend(s) with my CITI/AAdvantage Platinum card, then their first checked in bag will also be free.
Car rental collision insurance is included! If I reserve a rental car anywhere in the world using

the CITI/AAdvantage Platinum card I will most likely be covered and can waive the insurance the rental company tries to sell you. However, you always have to confirm before assuming so.


How to Redeem 60,000 American Airline AAdvantage Miles
American Airlines is partnered with the OneWorld Alliances so miles earned through the AAdvantage program and the sign up bonus can be redeemed for an award flight with any of the OneWorld Alliance airlines. However, one thing to note is that the American Airline AAdvantage program is expected to go through a devaluation soon. It is going to cost more to redeem award flights with miles and you can read more about that here. 
You can potentially stretch your miles even more so when booking an award flight with a partner airline by using the "OneWorld and Other Airline" Award Chat. However, most OneWorld alliance members are not available to book using the AAdvantage portal, instead you will have to refer to the British Airways Avios portal to check for award availability.
With 60,000 AAdvantage miles you can also book a flight on any of the following One World alliance members https://www.aa.com/i18n/AAdvantage/redeemMiles/all-partner-chart.jsp :

British Airways (affiliate airlines: Cityflyer, Comair, Sun-Air of Scandinavia)
airberlin
Iberia
Finnair
LAN (affiliate airlines: LAN Argentina, LAN Ecuador, LAN Express, LAN Peru)
Cathay Pacific (affiliate airlines: Dragonair)
Qantas (affiliate airlines: QantasLink & Jetconnect)
Malaysia Airlines
Japan Airlines (JAL)  (affiliate airlines: JAL Express, J-Air, Japan Transocean Air)
Royal Jordanian
Mexicana (suspended indefinitely)
S7 (affiliate airlines: Globus)
Air Pacific
Air Tahiti Nui
Alaska Airlines
Ethiad
Cape Air
El AL
GOL
Hawaiian Airlines
Jet Airways
Jet Blue
Kingfisher Airlines
How to Reach the Minimum Spend Requirement in Three Months?
For some, spending $3,000 is not difficult, but for others, it might be hard especially if they don't have a lot of pricey expenses (unless you can pay your rent or mortgage with a credit card). I personally have good spending habits and I do not recommend taking on more than you can chew, so don't make purchases that you cannot afford to pay off at the end of the bill cycle. Why? Because paying interest not only defeats the purpose of getting free flights, but carrying a high balance month to month can ding your credit score.
Here are some ideas on way to meet the minimum spend requirement in three months without manufacture spending:
Car Insurance

– My monthly car insurance bill is about $150 and I have 5 more months on this cycle left, so I will pay the balance at once towards my minimum spend requirement.

Car Maintenance –

I'm due for a new timing belt, oil change and two new tires!

Grocery Store Gift Cards –

I spend about $300 a month on groceries so I plan to purchase $600 in gift cards.

Gas, Water, Electric
Cell Phone Bill
Internet
Student Loan bills
Gas Cards
Netflix
Cable
Gym Membership
Last Thought
If you already have American Airline AAdvantage miles and want a miles boost, this is a great offer to take advantage of. Even if you were not targeted for the 60,000 miles, the 50,000 limited time offer can get you a round trip flight to Central America. If you have travel plans coming up and already know the dates, now is a good time to book the awards before the awards chart is devalued and the price per award goes up. I can't wait to get my 60,000 miles and use it to either hike up to Mount Kilimanjaro or head back down to Buenos Aires next year (with the devaluation in mind).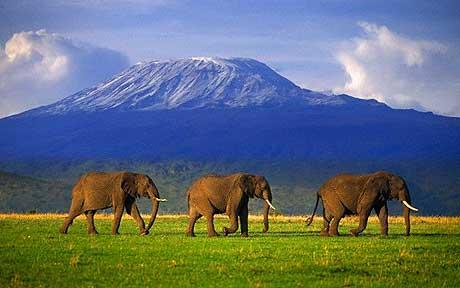 Happy Travels!    
If you enjoyed this post, why don't follow Adrift Anywhere on Facebook or subscribe to get updates on budgeting tips, travel advice and tips!
Susan is a travel and lifestyle writer from Los Angeles, California. A lover of the outdoors, beautiful landscapes and different cultures, she's been on the road for the last 6 months in backpacking Southeast Asia and Argentina. Her loves include strong coffee, pristine beaches, a challenging hike and luxury-budget traveling.
Latest posts by Susan Aksu (see all)