To travel from Bangkok to Cambodia, you have a few different options which depend on your budget, time and patience. You can take the train, a bus, or a cheap flight to get to Cambodia. Like for most people visiting Cambodia for the first time, my main motivation for traveling there was to experience Angkor Wat in Siem Reap. Getting to Siem Reap may seem arduous once all the details begin to pan out, but it can go smoothly with a few tips.
From Bangkok, I decided to take the train which I actually enjoyed because I got a great glimpse of the Thai countryside, and if you are taking a bus you will have a similar experience as far as transfers.
To get to Siem Reap overland, there are a few steps you have to take with either a bus or train and your point of transfers will be Bangkok- Aranyaprathet-PoiPet-Siem Reap. The summarized version of what to expect for traveling by train and bus:
Take the train from Bangkok to Aranyaprathet
Take a tuk tuk to the Thai Immigration at the Border Crossing
Walk through "no-man's land" to Cambodian Immigration
Take a taxi to Siem Reap
Switch to a tuk tuk who takes you to your hotel
Take the train from Bangkok to Aranyaprathet
Taking the train to get to Cambodia from Bangkok is by far the cheapest method, you can't really beat the price of $1.50. The last stop on the train line is Aranyaprathet and it is the city where the Thai immigration control office is. There are two trains that head there per day, one at 5:55 am and another at 1:05 pm from the Hualamphong station in Bangkok. You can purchase your ticket the day you plan to travel for 48 baht which is about $1.50.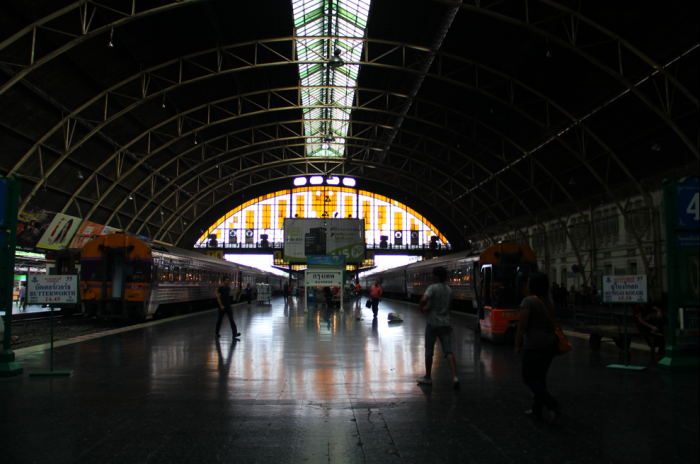 The train station is very easy to get to from most parts of Bangkok. If you are staying near Khao Son Road, it is about a 5 minute cab ride and if you are near Lumpini Park you can take the Bangkok Subway (MRT) that takes you straight to the train station.
For more information regarding the Metro system in Bangkok, you can read about it here.
The train ride from Bangkok to Aranyaprathet takes about 6 hours, within the first hour the train makes several stops in small towns, but after that the stops become less frequent.
The train ride can be pleasant even though there is no air conditioning in any of the cabins because once the train gets moving and all of the windows are down, there will be sufficient air ventilation. Another thing to keep in mind is that there is only a third class option which means that the seats are hard so after several hours it can be rather uncomfortable, but I thought it was okay. One thing I did have an issue with was that the toilet was the 'squatter' kind, and I'm still not into those. If you're not into it as well, make sure to relieve yourself at the train station and don't drink a lot of water on the train.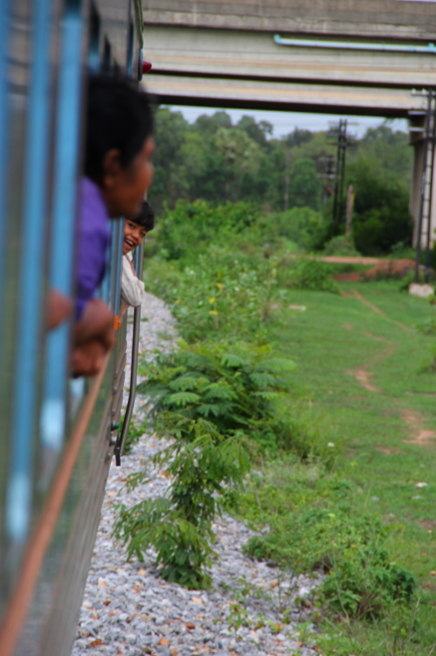 Once you get off the train in Aranyaprathet, you will likely be bombarded with tuk tuk drivers offering to take you to immigration. If you took the 1:05 train from Bangkok it will likely be night time already, but don't feel pressured to go with a tuk tuk driver that's in your face because he will most likely charge you a higher rate and possibly try to scam you as well.
Tips for taking the tuk tuk to immigration control
Walk out of the train station, and approach a tuk tuk driver who is not soliciting you because you're more likely to set a better price. If there are four of you, you can bring it down to $2 per person. If you are alone, you can probably bargain down to $5. I don't suggest walking to the immigrant control at night, and it is actually quite far with luggage.
Your tuk-tuk driver may drive you to the fake immigration control so you can pay for your Cambodian Visa. First off, whether or not you have your Cambodian Visa, say you already have it. Period. Second, unless you're doing it through the Cambodian Embassy, Consulate or online, you would pay for the Visa once you're in Cambodia. Never pay for your Cambodian Visa before exiting Thailand.
When your tuk tuk driver is taking you to the immigrant control like you asked him to, he may first attempt to take you to a Visa office before exiting Thailand (for me it was a white building on the right side of the road which has an unofficial banner that says something along the linges of 'Cambodia Visa'). It's actually fake visa office set up in a hotel. As soon as you see him turning into the drive way, firmly say "NO, take me to the Immigration Border I have my Visa." At that point he knows you know what's up and he should pull out of the driveway and take you to the immigration office which has an official Passport Control sign. That is exactly what happened to us, we demanded he take us to the official location and after we requested that he immediately continued onto the real border control. If you end up being taken to the fake Visa office by the tuk tuk driver and someone who looks official approaches you and requests your passport, refuse and tell the driver to take you away. The Visa they sell you for $35 is fake and the police in Thailand are bribed turn their eye.
Once the the tuk tuk driver is back on the road, he will drop you off near immigrant control on the LEFT side of the road and you will have to walk up to the building which is open until 10 pm– just follow the signs that are clearly marked in English. Once you are dropped off, people may approach you for whatever reason, whether it is asking if you need a Visa or a taxi to take you to Siem Reap, it's probably best at this point to just ignore all of them and continue on.
Walk through "no-man's land" to Cambodian Customs
Oftentimes, once you get through one country's immigration control, the next country's is immediately after. You'll notice that once you step out of the Thai immigrant control, you are in another city with casinos, bars and a lot of people. We called this no man's land and it feels a bit seedy. Continue on the path that you came from and keep walking towards the Cambodian border. Be smart and it's probably best to not linger here, especially if you are traveling at night. After walking for about 5 minutes, you will arrive at the REAL Cambodian Visa control on the right. If you already have your Cambodian Visa, you can continue on to the immigration line / passport check. If not you will have to fill out a visa form and get in line.
A Cambodian Visa costs $20, but if you don't have a passport sized photo with you, you will have to pay $3-$5. Although you pay $3 for a passport photo, you most likely won't have your photo taken and it never is an issue as far as customs so don't argue with the immigration officials about it because it will not get you anywhere. Consider it a 'fee'. When you are paying for your Visa, they also accept Thai Baht, but if you have US dollars that would be preferred. You'll quickly learn that the preferred currency in Cambodia is the US dollar so it would be a good idea to have about $100 in USD with you in smaller denominations for Visa fees and travel.
Once you have paid for your Visa you can continue on to the passport control line. After having your finger prints scanned and your passport stamped you enter the city of PoiPet. In PoiPet, your next mission is to find transportation onward to Siem Reap.
How to get from PoiPet to Siem Reap
From PoiPet you have different options of getting to Siem Reap. We initially wanted to take the bus to Siem Reap, but we missed the last trip so we could either spend the night in PoiPet or take a 2 hour taxi ride. We decide to take a shared taxi with two other backpackers we met on the train so between the four of us we each paid $10. The "taxi" I should say in negotiated beforehand because it is not marked as a taxi, but likely a regular 4-door sedan. While in Cambodia, I rarely actually saw any taxis other than tuk tuks so I'm not sure if there are many advertised taxis. 100% agree on a price before you get in the car and do not pay until you get dropped off.
If you do get to PoiPet earlier, you can take a bus for $9 from the International Bus Terminal which you would get to with one of the minibuses waiting outside the immigration control. The buses take about 3 hours to get to Siem Reap and the last one departs at 6 p.m.
When you get to Siem Reap, the driver will drop you off at a parking lot outside of the city center where a tuk tuk driver will be waiting for you. The tuk tuk will take you to your hotel and if you do not have a hotel booked for the night he or the taxi driver will suggest you go to one they recommend to get commission. You can go along with it, but the rate will probably be more than what it should be. The best thing to do is to book in advance if you can or have the name and address of a couple locations written down. If you have the Hotel Quickly app, you can use it for Siem Reap which is what I did. For the most part, you can find several inexpensive boutique hotels throughout Siem Reap that include free breakfast.
Before the tuk tuk driver takes you to your hotel, he will mention to you that the ride is free if you agree to hire him to take you to Angkor Wat in the following days. If you decide that you do not want him to take you to Angkor Wat, then make that clear immediately and set a price which should not be more than $2 a person. If you do decide to hire him for Angkor Wat, $5 per person is a reasonable price, but if it's only you or one other person, the best you might be able to negotiate is $15 for the whole ride.
Do not try to get a free ride out of the tuk tuk driver and flake on him for the ride to Angkor Wat. The tuk tuk driver is literally setting aside his whole afternoon for you rather than looking for customers to give rides to throughout the day, so be ethical. When you hire him to take you to Angkor Wat, he can pick you up from your hotel at 5 am if you want to make it for sunrise at Angkor Wat which is a popular thing to do, or you can pick a different time to go. You have him for the whole day if you like. Since we got into Siem Reap at a late hour, we did not want to go to Angkor Wat at 5 a.m. the next day and asked if it would be okay to take us the day after and at 5 am he was at our hotel to take us.
When the tuk-tuk driver takes you to Angkor Wat, he doesn't just take you there and drop you off. He waits for you to be done with each temple and drives you to farther temples which would take hours to walk to in the scorching heat so $15-$20 is sincerely a decent rate.  You can find my advice for exploring Angkor Wat in two days here.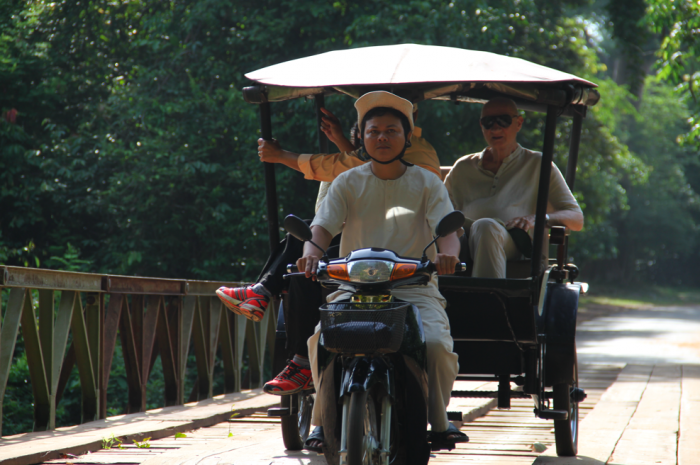 ---
If you would like to follow my travels through photos, you find them on Instagram through #adriftanywhereinSEA or by adding my username: @adriftanywhere_travelblog !
If you enjoyed this post, why don't you follow Adrift Anywhere on Facebook or subscribe to get updates on budgeting tips, travel advice and tips!
Susan is a travel and lifestyle writer from Los Angeles, California. A lover of the outdoors, beautiful landscapes and different cultures, she's been on the road for the last 6 months in backpacking Southeast Asia and Argentina. Her loves include strong coffee, pristine beaches, a challenging hike and luxury-budget traveling.
Latest posts by Susan Aksu (see all)